This is a good story of communal harmony in Ayodhya, indeed, there are many such stories in a series of article on Ayodhya published at http://MikeGhouseforIndia.blogspot.com . We appreciate Dr. Frank Islam for taking the initiative to promote good stories to uplift people and put them on the pathway to cherish each other's life. We hope to open our offices in India soon to give a boost to the ideals of pluralism, i.e, respecting the otherness of other and accepting the God given uniqueness of each one of us.
Mike Ghouse
Center for Pluralism
'There was never an iota of communal hatred in Ayodhya'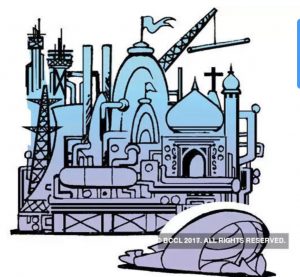 Updated: Dec 03, 2017, 12.32 PM IST
Locals, both Hindus and Muslims, say "outsiders" who came to Ayodhya in 1992 stirred trouble while locals were busy saving each other — irrespective of their religious faiths.
This is a town held sacred for its association with Hindu religious lore, which in latter days acquired the unflattering reputation of being a hotbed of Hindu-Muslim antagonism and religious-political conflict whose reverberations are felt both nationally and internationally. But what is little known, and may be even difficult to believe, is that
Ayodhya
has traditionally been known for its inter-faith harmony where it is not out of the ordinary for a Muslim tailor to stitch clothes for the idol of Ram or for a Hindu priest to help renovate an old mosque.
As
India
approaches 25 years of the apocalyptic demolition of the 16th century
Babri Masjid
on December 6, citizens of Ayodhya take pains to talk about their age-old heritage of cultural collaboration and free participation in inter-religious activities which has kept the secular fabric of the twin intact — despite the dragging temple-mosque politico-legal dispute over 2.7 acres of prime land whose ownership is contested by both Hindus and Muslims.
Locals, both Hindus and Muslims, say they were "outsiders" who came to Ayodhya in 1992 and stirred trouble while locals were busy saving each other — irrespective of their religious faiths — from the brunt of the riots that ensued. Out of the town's total population of around 60,000, Muslims account for only six per cent. But they never felt any discrimination from Hindus, says Mohammed Chand Qaziana, priest at the Dargah of Sayyed Mohammad Ibrahim.
Qaziana said that the dargah was protected by local Hindus when the kar sevaks, or Hindu religious activists who came from outside the town, demolished the Babri mosque on December 6, 1992, on the ground that it was erected there by invading Mughal emperor Babar after razing a temple dedicated to Ram, the revered warrior-god of Hindus.
"This 900-year-old dargah has followers from the Hindu community as well, many of whom regularly pay a visit here. It is a symbol of our centuries-old harmonious existence. When it was attacked, our Hindu brothers formed a human shield around it and saved it," Qaziana recalled to IANS.
Faizabad district, in which Ayodhya falls, has about 30 per cent Muslim population. Qaziana said there is an unannounced understanding among the people here not to fall prey to hate speeches of politicians and outsiders.
What makes communal harmony special here is the participation in inter-faith events and rituals — Muslims stitching clothes for Hindu deities, participating in Ramleela (religious theatre based on the life of Ram) or doing namaz (prayers) in Hindu religious places; and Hindus similarly contributing to mosque renovation or helping Muslim fellow townspeople in times of need.
Echoing Qaziana's views, Barfi Maharaj, who identifies himself as a Hindu social worker, said the Masjid was razed on December 6 by Vishwa Hindu Parishad (VHP) hotheads and locals had no role in it.
"We were neither influenced by hate speeches nor did we participate in the demolition drive. It was VHP that brought outsiders to demolish the Masjid. How can people from the birthplace of Ram, who is known for his secular teachings, commit such a sinful act?" asked Barfi Maharaj.
Giving examples of inter-faith harmony in the town, he said that a mosque near Hanumangadhi in Ayodhya was being renovated by a Hindu mahant (priest) while a Muslim tailor had been stitching clothes for the idol of Ram that is installed in the makeshift temple at the disputed site of Babri Masjid.
Sadik Ali, alias Babu Khan, said he had stitched seven to eight sets of clothes for the Hindu gods so far. Sadik, who is said to be a stakeholder in the negotiations in the issue, called Babri Masjid demolition "unfortunate" but said he had no problem in the construction of Ram Mandir on the disputed land.
"We do have faith in Ram. We had offered namaz at Hanuman Gadhi. If Hindus want big temples for their beloved god, we do not have a problem. We just want a piece of land nearby for a mosque," Ali said.
Mohammed Salim has been making 'khadav' (wooden sandal), which were traditionally used by sadhus and priests but are now largely used in temples.
Salim said his family had been selling khadavs since generations which are usually bought by temple priests. "I have never witnessed any tension between the two communities here. We depend on each other for our needs and we respect each other," he said.
The mutual understanding and respect for Hindus and Muslims here — revealing to an outsider — figure prominently in the region as one talks to the locals who, irrespective of their religion, slammed political leaders for vitiating the issue in an attempt to get electoral mileage.
A local contractor, Shailendra Pandey, said the people of Ayodhya were hardly consulted on what has come to be known as the Mandir-Masjid issue and politicians used Ram and the temple issue for their personal gains.
"You go anywhere in the city and talk to anyone. You will not find an iota of communal hatred among them. The unholy politics by outsiders has given our city a negative image," Pandey said.
Mohammed Naeem, who is the president of Naugaja Dargah, said politicians were now creating hurdles in the way of the temple construction.
"This town is a perfect example of religious harmony and secularism, thanks to its rich culture and history. Everyone would be happy if the contentious issue is resolved amicably. However, we feel the politicians have kept this issue pending for their selfish motives," Naeem said.
Whatever be the difficulties and complexities in the Mandir-Masjid issue, there will not be any negative impact in the socio-religious fabric of the city, feel the people of Ayodhya, once the kingdom of Ram, known for being a model of good governance in that era.
(This feature is part of a special series that seeks to bring unique and extraordinary stories of ordinary people, groups and communities from across a diverse, plural and inclusive India, and has been made possible by a collaboration between IANS and the Frank Islam Foundation. Saurabh Katkurwar can be contacted at saurabh.k@ians.in)