As an Indian American, it is embarrassing to see my country listed as the 4th worst country in the world for religious violence.
Hinduism does not allow you to kill, maim, molest and rape others, the men and women who are doing this are doing it on their own or their politics is encouraging them to do it. At the end, they are staining the name of India and Hinduism both.
If you are the wrongdoer, you need to be embarrassed and seek repentance, all of us need to seek it as it frees our souls. On the other hand, if you are not the guy who is harming fellow Indians, you need to condemn the traitors who are killing, maiming, harassing and raping fellow Indians in the name of Hindutva, which is not Hinduism.
If you are an Indian-American, you ought to be ashamed of your silence for atrocities against fellow Indians who are different than you. You need to speak up. Should the majority of Americans treat you the same?
The Hindu America Foundation can take up the issue and urge the Modi government to bring the rule of law and restore dharma for every Indian to live a normal life without fearing the other. Let every Indian have the freedom to believe whatever he/she wants to believe, eat, drink or wear whatever suits him or her and live his life to the fullest in the pursuit of his happiness.
Mike Ghouse
Courtesy – Quartz Media
India is the fourth-worst country in the world for religious violence
India historically touts itself as a secular state, one where all religions are recognized and can peacefully co-exist. Well, at least in theory, it is. Unfortunately, the reality is much different.


An April 11 Pew Research Center analysis of 198 countries ranked India as fourth worst in the world for religious intolerance. In the country of 1.3 billion, the incidence of hostility related to religion trailed only Syria, Nigeria and Iraq, all places where sectarian violence is widespread.
India is not alone in seeing more religious unrest. Globally, Pew says, government restrictions on religion and social hostilities involving religion increased in 2015 for the first time in three years.
Pew analyzed cases that involved hate crimes, mob violence, communal violence, religion-related terror, the use of force to prevent religious practice, the harassment of women for not conforming to religious dress codes, and violence over conversion or proselytizing.
The Hindu vs. Muslim history
Tensions between religious groups—especially Hindus and Muslims—has long divided India, but the rifts have intensified. "[In 2015,] Muslims in India at times experienced attacks by Hindus because of alleged cow slaughter, while Hindus were also sometimes the targets of hostilities by Muslims as well," Katayoun Kishi, the study's lead author, told Quartz. "In addition, there were multiple incidents of rioting and mob violence involving the two groups."
Lynchings of beef-eating Muslims have compromised India's status as a secular country. But a re-burgeoning Hindutva nationalist agenda has not made even the majority Hindus immune to discrimination, in India or elsewhere. Around the world, Hindus were harassed in 18 countries, fewer places than some other groups. "But the vast majority of the world's Hindus—95%—live in India, where harassment of Hindus by both government and social groups was reported in 2015," the study's authors note. Dalits, the lowest-caste Hindus, were especially ill-treated in society. (Dalits are often secluded from basic government institutions and services, such as education and health care, too.)
National crime statistics in India also indicated that, compared with other caste affiliations, assailants most often perpetrated rape against Dalit women, according to the US State Department's human-rights country report. Many of the assailants are not prosecuted. On June 24, 2015, attackers beheaded Dalit engineer V. Gokulraj in Pallipallayam, Tamil Nadu, reportedly because of a romantic relationship with an upper-caste Hindu classmate. The primary suspect, local caste leader S. Yuvaraj, absconded for months after the incident. (He later surrendered.)
Real life vs. the law
India's constitution provides for religious freedom, but the country does not always practice it.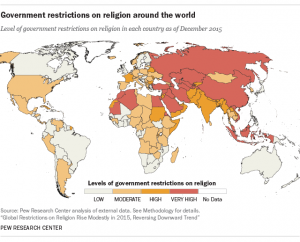 Overall, the Pew study criticizes India for having "high" levels of government restrictions on religion, defined as interference in religion practice or proselytizing, hostility to minority religions and inaction on complaints of discrimination.
"Non-Hindus were particularly impacted by government restrictions in India in 2015," Kishi said, citing a Chattisgarh high-court ruling that banning non-Hindu religious "propaganda," prayers and speeches was not a violation of non-Hindus' constitutional right to preach and propagate their religion.
"Officials of the Bharatiya Janata Party (BJP) at both the central and state government levels made statements that India should be exclusively Hindu," Kishi added. "Minority communities, including Muslims, Christians and Sikhs, complained of numerous incidents of harassment by Hindu nationalist groups."
The national government may not have issued any official nationwide diktats about religion, but events leading up to and in 2015 have sparked controversy throughout India. In the western state of Gujarat state anti-conversion laws do not allow people to adopt a religion without permission from the district magistrate, also hampering religious autonomy (paywall). In the north, Haryana decided to include the Hindu holy text, the Bhagwad Gita, in its school curriculum. Mass ghar wapsi (return to Hinduism) ceremonies, organized by a Hindu nationalist wing of the governing BJP, the Rashtriya Swayamsevak Sangh (RSS), are viewed as an attempt to dismantle minority religions.