Rape is to be declared the worse crime of humanity. Right now, India is going through a rape crisis. The criminal idiots don't want to discuss these issues as they think it dishonors India. No, It is not India; it is the rulers who are to be dishonored for not speaking up and taking action. Shame on the idiots who counter-attack the United States for a higher rape rate, as if justifying those rapes in India.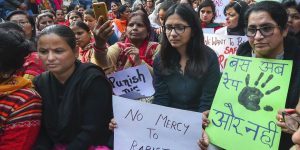 In the last few years, a medical student, "Nirbhaya," was gang-raped on a New Delhi Bus and was brutally tortured. Two Dalit women were raped and hung them on a tree in Uttar Pradesh, a year ago, a six-year-old girl Asifa was gang-raped in Kashmir and brutally murdered and left to rot in a temple. There was another 8-year-old girl in Kathua. The Indian government has not taken steps to ensure the safety of women, 600 million women.
Last week, another girl was gang-raped by four boys in Andhra Pradesh. Our reflexes want these boys to be brutally killed – I was in that mode for the last few days, continually thinking a way out. But then, I saw this note from the Wire, and am back to square one. Killing the killer will not be a deterrent; there's got to be another way.
I have always been against the death penalty, and I did not believe that a state should deliberately kill the killer and find ways to get rid of this evil.
What is your opinion? What are the solutions?
What is your opinion? What are the solutions?
Mike Ghouse
Center for Pluralism.
7 Reasons Why the Death Penalty Doesn't Work for Rape
Courtesy – The Wire
Over the past few days, India's headlines have been dominated by cases of sexual violence, rape and violence against women. And with these cases has come the refrain: 'Hang the rapists'. This time, even parliament got to hear that slogan, and more.
A Rajya Sabha MP wants rapists to be lynched in public, and the head of the Delhi Commission for Women has gone on an indefinite hunger strike until the accused in the Telangana vet's rape and murder are sentenced to death.
But is the death penalty really the answer? Feminist scholars and activists have been arguing for years that it isn't. Here's why, in seven points by Jahnavi Sen.
1. Data doesn't prove the death penalty is a deterrent
For crimes of different kinds across the world, nobody has been able to conclusively say that the death penalty is an effective deterrent. The research that does exist gives mixed signals. It appears as though the call for the death penalty is more an outcome of outrage than of serious thought on what can change the prevailing situation.
2. Reduced reporting
In a large number of rape cases (94.6% of cases in 2016, for instance, according to the National Crime Records Bureau), the accused is known to the victim. Given that scenario having the threat of the death penalty looming over the case may make victims less likely to report cases of sexual violence, or even face increased pressure from their families to keep the matter to themselves.
3. More chances of murder/increased violence
Once it is clear that the death penalty is highly probable in rape cases, it may in fact have the opposite impact – instead of acting as a deterrent, it could lead to perpetrators making sure the victims are left dead or in no state to make a complaint or recognise the perpetrators.
4. There is no consensus among judges
In the 16 years between 2000 and 2015, 30% of death penalties awarded by trial courts ended in acquittals (and not just reduced sentences) when appealed in higher courts. Another 65% of cases saw the death sentence being commuted, Project 39A found. With this level of uncertainty on what the correct punishment is – and whether the accused are even guilty – sending people to the gallows can have serious consequences.
5. 'Tough' criminal laws can target weaker sections
Multiple reports from India and elsewhere have shown that criminal justice systems mirror the biases of society – including against weaker sections who cannot afford expensive lawyers or to appeal their cases in higher courts.
6. Problems with retributive justice
While some argue that the state has a duty to support society's retributive rage against those convicted of crimes such as rape, this argument is a slippery slope to allowing the death penalty for all sorts of crimes. Much has been said against retributive justice and why it doesn't create a sustainable criminal justice system.
7. Rape should not be equated with death
The logic behind arguing for the death sentence for perpetrators of rape is that the crime they committed is equivalent to death. Sushma Swaraj infamously referred to Jyoti Singh as she was battling death as a 'zinda laash', or living corpse. Feminist activists have come out strongly against that notion, which is linked to the idea that a women's 'honour' – linked intrinsically to her sexuality – is what makes her life worth living.