First of all, I want to assure the Gay and Lesbian Americans that as Muslims, we will stand up with you for your right to life, liberty and pursuit of happiness.
Secondly, you are our friends, neighbors and fellow Americans. You have been a part of my events over the years, and I have participated in your events.
At this time, some of you may be apprehensive of Muslims, and I understand that, but it is time to come together and not let extremists tears us apart, that's how they weaken us – by dividing us. Let's not let that happen. We are all Americans and we have to express that through our actions of standing up for each other.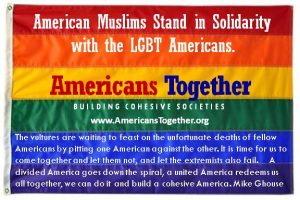 Three videos will be posted by the end of the day – Fox News and two of my video messages to LGBT Community and a Message to Mr. Trump
I have a stellar record of Standing up for fellow Americans of all faith, races, sexual orientation and other uniqueness since 1984. You can Google it out or check the websites www.StandingupforOthers.com, www.TheGhouseDiary.com and www.CenterforPluralism.com
Yes, we have a lot of work on our hands and one of them is education. I have witnessed a lot of harassment and killings of Gays in Oak Lawn area in Dallas. The Christian Pastors have gone berserk about acceptance of GLBT community and same sex marriage as a norm. Not all, but a similar number of Muslim Clerics sound identical to them, including this cleric in Orlando who said it was alright to kill the Gays. We condemn such bad guys.
Here is the challenge for 322 Million of us, we the people, we the Americans including Christians and Muslims.
GOD IS NOT A VILLAIN
Please don't make God a villain of his own creation, God is about justice, equity, fairness and kindness, he is not a villain. I challenge those few Christian and Muslim God-men to go back and study Bible and the Quran and point to us where God has authorized you to hurt, maim, and kill another human.
I particularly appeal to those few misguided Imams not to act in behalf of God, or his appointed trustee, his deputy or associate. Produce the appointment letter, if not, please go back and not make a villain out of God. I am ready to quote you from the holy Quran – if you have not studied it, it is time to study. Quran says, no one but you is responsible for your deeds, and only God is the Master of the Day of Judgment. Do you want to violate that?
Now coming to my dumb ass friends who are aching to put down the President and others who do not want to use the phrase radical Islam.
Guns don't kill people, bad people do.
Religions don't kill people, bad people do.
Let me explain how the society functions. If there is a rapist running around in the neighborhood, everyone is apprehensive and makes sure the women folk are guarded and protected, it is a human instinct. But when you capture the guy, there is a relief, the trust in the society is restored and everyone starts living their life.
If you blame the religion, what happens? Not a thing! Society at large remains apprehensive. Isn't it dumb and dumber to blame religion – see, you cannot shoot, beat, slaughter, hang, kick or bury the religion, why bark at it? Get some brains and go get the criminal or criminals and don't bark at the religion.
Guns don't kill people, neither religions kill people.
At Center for Pluralism, we are committed to build a cohesive America, where no American has to live in apprehension or fear of the other.
Once again, don't let the Trumps mess up the society and pit one American against the other, let's nail the bad guys. As we all become integrated, and become one, we will all rise and fall together. Muslims are not the problem, but the criminals are the problem, and they belong to every faith. Think about it, last year 354 Mass murders were committed by fellow Americans, and one was ascribed to a Muslim in San Bernardino, per the rules of proportionality, Muslims should have had 4 massacres on their hand.
Violence should not be acceptable.
I stand with the LGBTQ community in solidarity
Mike GhouseDr. Mike Ghouse is a community consultant, social scientist, thinker, writer, news maker, Interfaith Wedding officiant, and a speaker on Pluralism, Interfaith, Islam, politics, terrorism, human rights, India, Israel-Palestine, motivation, and foreign policy. He is committed to building cohesive societies and offers pluralistic solutions on issues of the day. Visit him (63 links) at www.TheGhousediary.com
# # # #
TALKING POINTS WITH STUART VARNEY SHOW ON FOX NEWS TODAY
Stuart, thanks for this timely presentation, Gays and Lesbians are my friends, neighbors and my fellow Americans. As a Muslim I have stood up for their rights since 1984, its all at www.StandingupforOthers.com, I have spoken at Universities, Churches and Muslims groups about understanding the LGBT community. GLBT is part of the events we hold and I have been a part of their marches, rallies and fund raisers.
I want to assure my fellow Americans who are Gays and Lesbians today, that as a Muslim, and many Muslims will stand up for their rights to be who they are.
However, together we have to work with a few among Christians and Muslims have mistaken Christianity and Islam and have chosen to make God as their Villain. God is not a villain of his own creation, God is just, kind, merciful and all loving God.
Yes, there are Imams and Pastors who want to kill Gays – my question to the Imams is simply this – Has Allah authorized you
American Muslims Condemn the Florida Massacre at the Gay Club
Washington, DC, June 12, 2016 – American Muslims are appalled with the massacre of fellow Americans in Orlando, Florida. We condemn the extremists who took 50 lives with no hesitation, because they were Gays. No human has a right to take other's life.
As a nation we mourn the loss of the lives of innocent men and women, and extend our heart-felt condolences to the families of the victims and the LGBT community.
As Americans we have a lot of work to do, it's unfortunate that the acceptance of LGBT rights has not become universal yet. The conservatives among Christians, Muslims, and others are yet to come to terms with the acceptance.
I am one of the first few Muslims to have started talking about acceptance of the life of LGBT community as a norm, they are one of us; our fellow Americans and he have stood up for the rights of Gays and Lesbians from the early 80's.
Thanks to Congressman Keith Ellison, who has made clear statements about acceptance of the LGBT Community, and the same goes with the Islamic Society of North America (ISNA), the ADAMS center has also taken a similar position.
Six million American Muslims are sick of these few sickos who try to pass the buck on to a religion for their crimes. We should not buy their non-sense. They committed the crimes and they need to be punished.
A fully practicing Muslim recites "God alone is the Master of the Day of Judgment" anywhere from 17 to 51 times a day, and during Ramadan, you can add an additional 22 times. It is indeed and unforgivable sin to act in behalf of God.
All the verses in Quran point out that no one but God has the right to judge, and no one has a right to kill any one unless it is in self defense.
It is time for Muslims to take the message of human rights to masses. God is not the villain of his own creation that the Guardians of religions make it out to be. God has chosen to create humanity into many tribes, nations, races, religions and most certainly we can add sexual orientation to it. This act is the act of a nut case, and Islam does not teach this. Had HE wanted, he would have created all of us alike, but he chose otherwise. If we can learn to respect the otherness of others and accept the God given uniqueness of each one of us, then conflicts fade and solutions emerge.
# # #