Let's Cherish America!

This weekly bulletin comes to you from the Center for Pluralism, an organization committed to building a cohesive America, where no American needs to feel alienated or afraid of the other.
We need to reassure each other, including disappointed White Americans that together as Americans, we are committed to safeguarding the American way of life for everyone. No American needs to worry about losing his or her way of life. As Americans we uphold, protect, defend and celebrate the values enshrined in our Constitution. This will ensure continuity of our lives.
We will continue to initiate and support actions to cherish and preserve our shared American values. Join us in small steps in practicing pluralism in religion, politics, society and culture and be a catalyst for a safe, secure and prosperous America for each one of us.
CFP is a Muslim initiative but not a Muslim organization, it is for all Americans. Islam is as much a part of CFP as Atheism, Hinduism, Paganism or any other ism including the Native American traditions.
Please visit https://centerforpluralism.com
Get ready to participate in Civic (Memorial Day and July 4th) Religious (Wisdom of Masters, Understanding Religions), Cultural (Thanksgiving), Social and political (Conservative and progressive meetings) programs. The more we know each other the fewer problems we will have with others. We have a whole lot of events, check it out in our programs tab.
Let's open our hearts, minds and souls to restore and cherish America.
Reaching out to the disappointed White folks
We need to reach out to the white folks who feel alienated from the mainstream. They are the most neglected but the most powerful group in America Today, they put Donald Trump in the White House and they can dethrone him if he does not fulfill and treat all Americans on an equal footing. We will fail miserably if we don't reach out to them. Let's build alliances with all Americans for the common good, and not, never against any American.
It is worth watching this video… and I have written a few articles about it. It was our collective fault that we ignored the white folks who equally faced the difficult economic times. Sometimes, facts don't matter, emotion does. This video is worth watching – I want to hug them, they are good people caught in economic turmoil and are frustrated about the situation.
https://www.facebook.com/theguardian/videos/1491239407569788/
Would you join me – at least one from each faith to visit McDowell county in W. Virginia and break bread with the folks there and assure them that we are with them and we will do whatever we can to help them? We are in this together and have to care for each other. No more talk, only action. We will rent a vehicle and share the cost unless someone wants to sponsor it.
Media Training to Speak on Islam
The purpose of this course is to train men and women, youth and seniors to speak about Islam as practiced by American Muslims in Public Square. Program is open to every American. This is the third and final session of the course. In the other two courses the basics of Islam and how they contribute to the well being of our communities we taught.
Katherine Kerr and Mike Ghouse will provide training about dealing with the media and responding to crises. We will carry the program forward empowering students not only with Islamic knowledge but also knowledge about other faiths. One of my assignments with the American Muslim Institution was to establish training programs.
Saturday, March 11, 2017 – 11AM to 3:30 PM – 4 spots available
Do American Muslims Want Sharia?



American Muslims owe it to fellow Americans to clarify the myths about Sharia. We hope to mitigate this fear through a symposium with the Imams and Islamic scholars on the one hand, and those who oppose Sharia on the other. Sharia in America is a moot point, but as Muslims we have miserably failed to communicate to fellow Americans. We have to put this behind us and focus on living our lives instead of these non-stop frustrations to one and irritation to the other.
Our budget is $15,000.00 – It is a serious responsibility to pass on a better social environment for our kids and grand kids. If we don't do it, who will? We need sponsors; if you are serious about putting this behind, us, please call me.
Check your patience – https://www.youtube.com/watch?v=gTkG6PKnNFw&feature=youtu.be
Radio Pluralism in Washington DC | Coming Soon
Information at: https://centerforpluralism.com/radio-pluralism-in-washington-dc/
MEET OUR BOARD OF DIRECTORS
Dr. Karen Hollie-Thibodeaux


Dr. Karen Hollie-Thibodeaux's life has been used greatly by God: as a pioneer when He led her to establish Grace International Seminary in 2007; and as a trailblazer when He gave her the vision to plant a church where individuals can reach their greatest potential.
Her commission from God to plant a globally diverse, celebratory church is being fulfilled. It is a church that will empower, enlighten, and encourage the unchurched, alienated, and the lost to a life-changing new beginning through teaching, preaching and evangelism. Upon this premise, Lifeway Church of Dallas was founded with Dr. Hollie-Thibodeaux as the senior pastor.
Dr. Hollie-Thibodeaux is an Ambassador of Peace in 2008, with the Universal Peace Federation. As an Ambassador of Peace, she travelled to Europe and Asia, and Middle East regularly promoting world peace.
She serves a clinical Psychotherapist and is president of Life Change Agents Enterprises.
Fatima Argun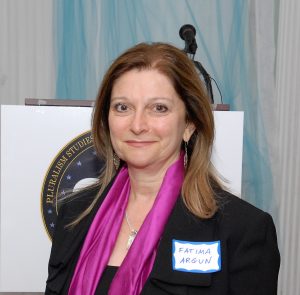 Fatima Argun is an international marketing, strategic planning & management expert and business development executive with a developing expertise in organizational development, facilitation and conflict management. Her experience includes work at senior levels with organizations such as Booz Allen Hamilton, the US Department of Commerce, The US Senate Judiciary Committee, MCI WorldCom, and the World Bank. She is presently engaged as a strategy consultant, representative, educator, advocate and fundraiser for NGOs and as an advocate to empower women through leadership and entrepreneurship skills.
Fatima serves her community in a number of capacities, including as a member of the Arlington County Democratic Committee Steering Committee, and Outreach Committee Co-Chair. She was recently elected to the Lee Highway Alliance Community Advisory Council.
Ms. Argun is an MBA graduate of the Johns Hopkins University. She has studied conflict management at the School for Advanced International Studies (SAIS) and the United States Institute of Peace. In addition, Fatima holds a Masters degree in Public Affairs (MPA) from the Lyndon Baines Johnson School at the University of Texas-Austin, and has studied at the Sorbonne in Paris, France. Ms. Argun is proficient in Turkish, and is conversant in French
Nothing will change if we don't make the effort.
We have a lot of work planned, I will be happy to mail you a tiny brochure summarizing the work we are doing. We will need your physical address to mail.
We are making several efforts to reach out to Congressmen and Senators, and we are not asking them to do us a favor, but simply asking them to be a catalyst in shaping our nation. CFP is not a business so do not expect quarterly returns on your investment of time and money; it is a service that builds sustainable harmony and stability.
PLEASE DONATE GENEROUSLY
Meanwhile, please make a generous donation – your name will be listed for supporting our efforts in building a cohesive America. You can donate at. America Together Foundation is Center for Pluralism. https://www.paypal.me/AmericansTogether

This weekly bulletin comes to you from the Center for Pluralism. The Center for Pluralism is about building a cohesive America, where no American has to live in anxiety, discomfort or fear of another American. By learning to respect the "otherness" of others and accepting the God-given uniqueness of each one of us, we pave the way to mitigate conflicts and nurture goodwill. Then we all can live our lives and not worry about other's religion, race, sexual orientation or ethnicity. We are all Americans.
Mike Ghouse,
President, and a Board Member
Center for Pluralism | Research and Activism
(214) 325-1916 | Washington DC | Mike@Centerforpluralism.com