The Ascension of Bahá'u'lláh (1817–1892), prophet-founder of the Bahá'í Faith, is an occasion commemorated by Bahá'ís worldwide on May 29 annually. It is one of the nine major Bahá'í holy days, on which work is to be suspended.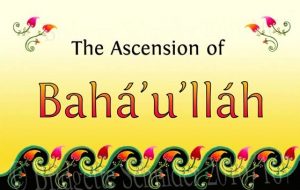 A series of exiles ordered by governmental and religious authorities took Bahá'u'lláh from his native Persia to Acre, a prison city in Ottoman Palestine, where he spent the last 24 years of his life. Shortly before dawn on May 29, 1892, Bahá'u'lláh passed away peacefully in the Mansion of Bahji, a small town near Acre in modern-day Israel (Bahji means "delight" in Arabic). The Shrine of Bahá'u'lláh, surrounded by stunning gardens, marks Bahá'u'lláh's resting place in Bahji; it is the holiest spot in the world for Bahá'ís and is the central site of Bahá'í pilgrimage.
Local Bahá'í communities around the world gather at 3:00am on May 29 to commemorate the life of Bahá'u'lláh with the reading of Bahá'í prayers and scriptures, usually culminating in the recitation in of what is known as the "Tablet of Visitation," a special prayer reserved for the anniversaries of Bahá'u'lláh, as well as those of his forerunner, the Báb.