April 9, 2018, Washington, DC – A briefing about Mike Pompeo's nomination for Secretary of State was organized by Interfaith Alliance featuring speakers from the Arab American Institute, Muslim Advocates, Muslim Public Affairs Council – MPAC and Shoulder-to-Shoulder.  Five video clips and pictures are listed below.

I am glad I attended this meeting, as each one of the presenters gave a summary of Mike Pompeo's background relating to his position. Some of the statements he has made came straight out of Brigitte Gabriel's playbook, to paraphrase it, "Every Muslim should condemn every act of Terrorism, if not he or she is not patriotic."   I did not expect such an un-intelligent statement coming out of our future Secretary of State.
Of course, I have fought back with Brigitte repeatedly on Fox News and have said to her, "If New Town massacre of Children was an act of Terrorism, why did you not demand each one of the 320 Million Americans to condemn it? Are they not patriotic Americans? Did each one of us condemn the death and destruction of Iraq and our own US of A? Did each and every American issue a press release condemning the Massacre of 17 students in Florida?  A bad act is a bad act whether Brigitte condemns or not. Everyone does not need to condemn it.
It is disappointing to see the newly nominated Secretary of State Mike Pompeo denigrating fellow Americans, particularly LGBTQ and Muslim communities.  If he has no regrets about the statements he has made, should his appointment be confirmed? Does he deserve to represent us around the world?
A significant number of jobs in America are related with the defense industry, if the Muslim majority nations quit buying from us and invest in China or Russia, we are doomed, we may hit unemployment the levels of the great depression.  I hope we the people, every American wakes up and stops the social and economic destruction of our nation.
There was a time I questioned blaming the people of Iraq, did they have a say in how their government behaved in their behalf? Was it the will of the people? Now, I am beginning to question, are the policies of the United States representative of the will of the American people?
I hope the Senators act responsibly and question the nominee thoroughly, or they will be digging their own graves in 2018 elections.
Let's consider making a personal commitment to do our share of the work in making sure no party gets a big majority in the Senate to slam dunk the bills or pass unqualified persons to run critical agencies. Most of the evil decisions by our government have been made when both the houses had a majority from the same party, we have to break this.  The ideal to preserve our checks and balances would be to let Republicans keep the house with a bare majority of 219 and the Democrats gain the Senate with 51. Both the parties would become evil and arrogant if we make the mistake of giving them a large majority. Let's decide how our government is run.
It has been a blessing to follow Mother Teresa's wisdom – "If you want to make peace with your enemies or perceived enemies, go talk with them." Talking with friends does not change the hearts and minds of the other. I hope to meet with Mike Pompeo and have a conversation about building a cohesive world, which would be the kingdom of heaven to live.
Engaging with people who have not seen the full picture helps most of the times. God has brought success to us dealing with many of them along with a few failures.
I was invited to speak at the ACT for America conference in San Antonio and other places,  the audience was taken back, but applauded to learn another point of view. While ACT for America was pitting one American against the other creating chaos and a mess, America Together Foundation was committed to bringing Americans Together (Also known as Center for Pluralism) and build cohesive societies.
Five videos are listed below from the briefing today:
Mike Pompeo's Anti-Muslim Rhetoric – Jack Moline https://youtu.be/tx-4CxWvdj0
Mike Pompeo's Anti-Muslim Rhetoric – Scott Simpson https://youtu.be/XrzmOzE0XYQ
Mike Pompeo's Anti-Muslim Rhetoric – Hoda Hawa https://youtu.be/uoedIvQJIUs
Mike Pompeo's Anti-Muslim Rhetoric – Maya Berry  https://youtu.be/JAQOZWPR_IQ
Mike Pompeo's Anti-Muslim Rhetoric – Catherine Orsborne https://youtu.be/nTOgRnbJwnQ
The press release from the organization Interfaith Alliance was posted as follows;
---
The Secretary of State Nominee Mike Pompeo is a longtime ally of prominent anti-Muslim extremists Frank Gaffney and Brigitte Gabriel and has worked closely with their organizations. In 2013, then-Congressman Pompeo suggested that American Muslim leaders were complicit in the Boston Marathon bombing.
On Monday, April 9, join leading interfaith and Muslim rights experts for a Capitol Hill briefing to examine Pompeo's anti-Muslim record and the consequences of nominating an Islamophobe to serve as the nation's top diplomat.
WHO: Maya Berry, Executive Director, Arab American Institute; Hoda Hawa, Director of Policy and Advocacy, Muslim Public Affairs Council; Rabbi Jack Moline, President, Interfaith Alliance; Catherine Orsborn, Shoulder to Shoulder; Scott Simpson, Muslim Advocates.
---
Positive engagement has higher chances of producing results than otherwise. I am looking for volunteer youths, who are sincere about serving fellow Americans to join us in our efforts to make America safe again for everyone. We have to learn to deal with those who are opposed to us (anyone of us). Please note the scope of our work is reaching out to every American from Atheist to Zoroastrian and every one in between.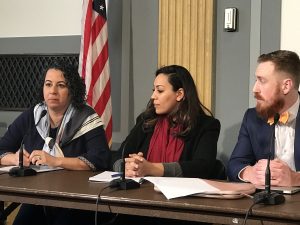 Mike Ghouse
Center for Pluralism
Committed to building a cohesive America