Nov 12, 2019, Capitol Hill, Washington DC — The Indian Embassy and the American Sikh community celebrated Gurpurab of Baba Nanak at the Hart Senate building, over 200 people attended the ceremony.
His Excellency Ambassador Harsh Vardhan Shringla presided the event. He was precise and effectively delivered the message on the occasion of 550th Gurpurab. As an Indian-American, I am pleased that he is a great representation of India.
Senator Todd Young, Congresswoman Judy Chu, and Indiana Congressman Greg Pence gave an amazing talk about Guru Nanak.
The three speakers on the panel gave an outstanding talk on Sikhism and Baba Guru Nanak. (Names to be added). One of them was Professor Nikky Guninder Singh. She explained the concept of oneness embedded in the phrase Ek Onkar very well. There is only one and no one like God. You can clearly hear the syncretic nature of Sikhism, there is Hinduism in it and there is Islam in it. The other professor gave a powerpoint presentation of Nanak in pictures, once again, it was a delight. She pointed out to two pictures, in one Baba Nanak looked like a Muslim Peer, and in the other a Hindu monk. She explained that it was due to how each artist perceived him, the first one was a Muslim and the 2nd one was a Hindu. There are no real paintings drawn of Baba Nanak, Sikhi teachings do not encourage image-making of the creator or even Baba Nanak as it limits the limitless. She was right, as a Muslim, and of course, as a pluralist, it seemed she was giving a talk on Islam.
Apparently, the pictures we see of Guru Nanak are artists renderings, as also presented his universal message of equality with pictures. I hope to recall and write the key points in a few days along with the names of the speakers. They were Incredible speakers!
Indeed, I will be speaking at the 550th Anniversary celebrations in New York next Sunday. My article about Baba Nanak is at https://centerforpluralism.com/guru-nanaks-550th-birth-anniversary-ad-2019/
It was a joy for me to see the Indian Embassy reflect India's pluralistic ethos, hence this additional note. India is one of the few nations in the world that has a fully functional pluralistic governance, Indonesia is the other one. Perhaps, India is the first nation on the earth where you find several religions functioning in one place and in one community. India's constitution has laid the foundation for all religions to have their own laws to govern, while the criminal laws are common to all Indians, the personal laws are different for each faith. India has successfully managed pluralism, which is respecting the otherness of the other. Throughout her history and particularly after receiving Independence.
The founding fathers chose the pluralistic form of governance, however, the word Pluralism was not common during that time, and secularism was the word used, to actually mean Pluralism. As the founder of the Center for Pluralism, it gives me great joy to give credit to India for the origins and practice of Pluralism. When the entire world was fighting religious wars, India was focusing on considering all her people as one family – Vasudhaiva Kutumbukum. That is the ethos of the Indian people.
Seventy years ago, the world Pluralism was not in circulation, and now it has become a household name. Indeed, the Center for Pluralism (aka Foundation for Pluralism established in 1996) along with Harvard University's Pluralism Project have popularized the word in the '90s and at the dawn of the new century, the Global Pluralism Center has added more literature on Pluralism. Today, there is no scholar who does not talk about Pluralism. Please visit www.CenterforPLuralism.com
HE Ambassador Harsh Vardhan Shringla and I had a brief moment to chat and I mentioned to him that my fellow Indian-Americans have contributed to the richness of America in science, medicine, mathematics, technology and software development, and my contribution would be the gift of Pluralism to America. I am planning to visit with him and discuss organizing a few programs highlighting India's contribution to America; Religious Pluralism.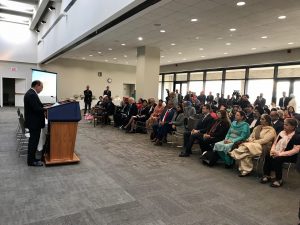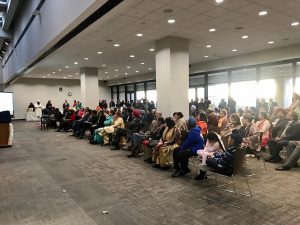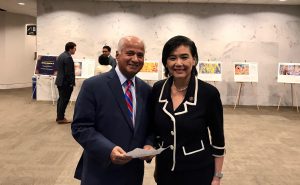 Mike Ghouse is a thinker, author, speaker, newsmaker, and an interfaith wedding officiant. His new book American Muslim Agenda is available on Amazon, coming up are books on Human Rights and Pluralism. He is committed to building cohesive societies and offers pluralistic solutions on issues of the day. More about him at linked-in.