Dr. Mike Ghouse, a Public Speaker, pluralist, thinker, author, organizer, business and community consultant, newsmaker, and an interfaith wedding officiant. He is also the founder and president of the Center for Pluralism in Washington, DC.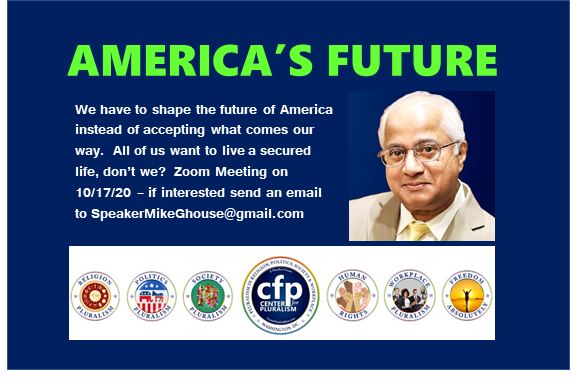 He will discuss how each of us worries about the future, particularly about our way of life, jobs, retirement, children, and grandchildren's future. We want to feel secure about who we are religiously, politically, socially, racially, sexually, or other uniqueness.
All we need is to live the way we want to live comfortably in a hassle-free environment. Yet, Mike asserts that the Trump administration is sowing the seeds of discord, division, and pitting one American against the other, including policies resulting in Black lives matter, the White supremacist, and other uprisings creating tensions.
He argues that we have a choice to reluctantly accept what comes our way, or choose to shape the future we want.
Mike concludes that we must stop the current administration's policies and correct the course to put America back again on the road of secure living for every American. It is our responsiblity to shape America's future to be a nation where every American feels confident about his/her way of life.
NOTE: His latest book, "American Muslim Agenda," is a primer, a road map, and a Blueprint for Muslims to build a cohesive America. Three more books are on the horizon. America's Future, Future of Interfaith, Pluralism, and Standing up for others. See also http://www.TheGhouseDiary.com