Congratulations to Sadiq Khan, the new Mayor of London.
Hours before the votes were counted, I was I was on Fox News with Charles Payne and Zuhdi Jasser about Sadiq Khan's possible victory.  Zuhdi was opposed and expressed his concerns, whereas I supported and cheered the democratic process and stood by my decision. Those of you who are moderates and or to the left, please respect Zuhdi's point of view without having to agree with him, an Islamic tradition in case you have forgotten it.   We have to be respectful to others point of view that is the highest form of democracy.
Here is the link to Fox news: https://www.youtube.com/watch?v=eYhOqT18RBQ
Thursday, May 5, 2016 – 6:10 PM Live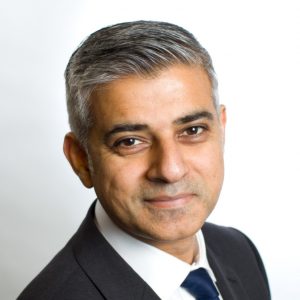 Mike Ghouse' talking points with Charles Payne on Fox News.
Tonight is one of the biggest nights for Democracy!
It is historical and even more important that it is happening in the United Kingdom, a nation of aristocrats, who have risen above it to possibly elect Sadiq Khan, the son of a bus driver, and belonging to a minority community; Muslims.
I will probably cry with joy, it is not only me, but the entire world will join me in doing that, not because he is a Muslim, but because United Kingdom has finally joined the civilized world led by America, where your race, religion don't matter, but your capabilities do matter.
When Barak Obama was elected president on November 4, 2008 – who did not cry? By electing Obama, Americans proved once for all, that we are a nation of righteousness and we are not petty
We have a few great examples from history – when Prophet Muhammad anointed a freed slave – Hazrat Bilal to be prayer caller – Muezzin, at that time on the higher spiritual pedestal, and whose Arabic was not up to the mark, but the Prophet laid the foundation of knocking out arrogance and establishing ability as the criteria.
I am proud our democracy and now, the democracy of the United Kingdom for giving value for the one who deserves.
Trump can turn the tide around, and build a cohesive America where no American has to live in apprehension or fear of the other. I will be happy to guide him through. I am a genuine pluralist, and pluralism runs through my veins.
Mike Ghouse is a speaker thinker and a writer with the Center for Pluralism aka America Together Foundation.


References:
Daily Telegraph: http://www.telegraph.co.uk/news/2016/05/06/uk-elections-2016—results-in-full-map-and-find-out-who-won-in/
Obama Choked me:  http://mikeghouseforamerica.blogspot.com/2008/11/president-obama-choked-me-with-tears.html
A great statement by Sadiq Khan, "I am the west…." I hope we expand on this, and I certainly will
https://www.facebook.com/Channel4News/videos/10153731400966939/?fref=nf
Mike Ghouse
(214) 325-1916 President

Dr. Mike Ghouse is a community consultant, social scientist, thinker, writer, news maker, Interfaith Wedding officiant, and a speaker on Pluralism, Interfaith, Islam, politics, terrorism, human rights, India, Israel-Palestine, motivation, and foreign policy. He is committed to building cohesive societies and offers pluralistic solutions on issues of the day. Visit him (63 links) at www.TheGhousediary.com