cfp is all about building a cohesive America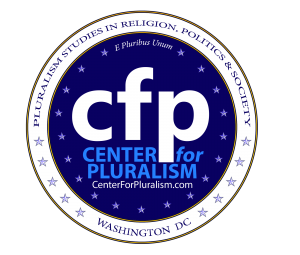 This weekly bulletin comes to you from the Center for Pluralism, an organization committed to building a cohesive America, where no American has to feel alienated or afraid of the other. How do we build such an America, where you, your children, grandchildren feel secure living in peace an harmony.
https://centerforpluralism.com
What do we have here:
1. Everything we do at CFP – all geared to create cohesive societies
2. Pluralism Calendar – mark your calendar for year round events
3. Republican Jihadi John needs to apologize to Muslims of Virginia
4. Clash of Cultures among Muslims
---
We will continue to bring non-stop actions in practicing pluralism in religion, politics, society and culture in order to be a catalyst for a safe and a secure America for each one of us.
PROGRAMS
The Center for Pluralism is committed to promoting understanding between peoples of different religious, political, and social affiliations. Our programs are designed to bring Americans together, so we can move towards perfecting our union, with liberty and justice for every American.
CULTURAL PLURALISM
Annual Thanksgiving Celebrations coming up in November (19th year)
A time of gratitude and celebration of cultural pluralism and appreciating men and women amidst us who have learned to accept each other as they are and how they express their joys through their unique cultural uniqueness. http://thanksgivingcelebrations.org/
Unity Day USA – 13th year
Bringing Americans Together to rededicate our pledge to one nation with liberty and justice for all. http://www.UnityDayUSA.com
POLITICAL PLURALISM
July 4th year – 2nd year
Thank God for America, where we cherish and value the freedom endowed to us by the creator. Democrats and Republicans will come together and cherish the Political Pluralism https://centerforpluralism.com/happy-4th-from-usa-today/
Conservative/Progressive talk

Based on our experience at c-pac's annual convention, it is necessary to have the two opposites see each other's point of view and take the demonizing of the other out of their rhetoric. This is a real possibility that we can achieve and should strive for.
RELIGIOUS PLURALISM
Annual Holocaust and Genocides (12th year)
A purposeful event to reflect on human failings, acts of violence, massacres, ethnic cleansing, genocides and Holocaust with the intention of learning to prevent such happenings as individuals, and reaffirm, "Never again" http://www.HolocaustandGenocides.com
Understanding the essence of religions, all religions (3rd year)
I would rather hear about your faith from you than someone else. Learn about the 13 different faith traditions first hand from their authentic practitioners. This program may be repeated and run multiple times in a year. https://centerforpluralism.com/workshops/
Annual Festival of Faiths, all faiths – 2nd year

Annual event celebrating all faiths at the Jefferson Memorial
What a joy it is when Americans come together. https://centerforpluralism.com/festival-of-faiths/
Year round Wisdom of Spiritual Masters – First year – New program started this year.
CIVIC PLURALISM
Annual Memorial Day – 2nd year

The freedom that we cherish today did not come to us on a platter, and was not a "given" either. It was earned for us through the sacrifices of our men and women whom we owe our gratitude to and to our veterans. It is an Interfaith memorial day.
Annual Veterans Day – 2nd year
Honoring our Veterans and civic pluralism duty
National Night out –
Every year more than 38.5 million people join forces on National night out on August 1, each year.
SYMPOSIUMS ON BURNING TOPICS
Native Americans' Rights
Racism
Stereotyping
Anti-Semitism
Islamophobia
Hinduphobia
Liberal/Conservative fears
Misogyny
Homophobia
Xenophobia
Sharia (May 2017)
Quran ( June 2017)
Intra-faith talk series among different faith groups within each faith
If you wish to hold on a topic that is dear to you, give us a call.
There is a possibility that we may do some of the programs as a television show, and some on the Capitol Hill and hope to hook up with C-Span and other TV networks.
PUBLICATIONS
A book to teach Pluralism course will be produced by the end of 2017
Regular articles in News papers and periodicals will continue to be published – over a 1000 articles have been published.
Our own publication www.PluralismNews.com will become a news paper eventually.
Booklets and Brochures
---
RADIO PROGRAM
Most of the talk shows cater to conservatives, and a few to progressives. What we don't have are the talk shows for the Moderate Americans. It is time to connect with the Moderate Majority and bring common sense and pluralism to politics. Our Radio show would offer pluralistic solutions on issues of the day, as does our blog Pluralism News.
David Gold was a conservative talk show host in Dallas in the early 90's and happened to be my tenant but refused to take me on the air. He was blunt, "Mike, my income is based on ratings, if I take you on the air, you will dilute my ratings by bringing reason into the conversation, and we cannot produce a show without tensions." I understood that, and went ahead and got my own Radio show for 7 years until it was feasible.
In our show, we gave everyone a shot to express his or her opinion; we did not censor free speech. If we need sustainable solutions, all of us have to place our cards on the table. We are considering bringing the show to Washington, DC through your support and public funding.
Our program in Dallas was about religious pluralism, and we did 104 hours on Christianity, Hinduism and Islam respectively, and 52 hours each on Atheism, Bahá'í, Buddhism, Jainism, Judaism, Sikhism, Zoroastrianism and a combined 53 hours on Native American and pagan traditions. We will bring that back as well. It shall be a feast to the moderate majority of Americans.

---
PLURALISM CALENDAR
Just about everything we do is listed in the calendar, since it is a line item, it does not show up well on mobile phone, please visit: https://centerforpluralism.com/programs/

---
WHAT DO WE ACCOMPLISH?
Our Mission is to build a cohesive America, where no American has to live in anxiety, discomfort or fear of another American. If we can learn to respect the otherness of others and accept the God given uniqueness of each one of us, then conflicts fade and solutions emerge.
The simple reason for conflicts between individuals, family members, community, religions, races, ethnicities and the nations is because we don't know the full truth about others. Whatever we have learned or hold against the other is based on myths and what others have said. Finding the truth is our own responsibility and it sets us free from anxieties. However, It takes time to know the other and remove the ill-will and it is worth it.
How often have we caught ourselves in our own bias towards others, be it conscious or unconscious? Instead of dismantling it which is our inherent desire, we keep piling on more of it creating a deeper chasm between us and the others and more frustration.
Center for pluralism serves as catalysts in promoting the ideal of "knowing each other." Knowledge leads to understanding, and understanding to acceptance of another point of view.
Our programs are designed to bring Americans Together; the more often we see each other in social, cultural, civic, religious, political and other settings, the lesser the conflicts would be resulting in fewer misunderstandings and misperceptions between us.
We need to reassure each other, including the disconnected ones among the White Americans, that together as Americans, we are committed to safeguarding the American way of life. No American needs to worry about losing his or her way of life. As Americans we uphold, protect, defend and celebrate the values enshrined in our Constitution.
As a process of 'knowing each other,' to mitigate conflicts and nurture goodwill, we have added many programs to our list of established programs that serve to facilitate removal of myths about others.

---

Republican 'Jihadi' John Findlay needs to apologize to Virginia Muslims
Who are the extremists? It is those who disdain reason and logic and consider these two values as the useless crutches of the weak. Facts don't matter to them. So, here comes Jihadi John, the executive director of the Virginia State GOP and makes the following statement.
Continued at: http://www.huffingtonpost.com/entry/58d55ee8e4b06c3d3d3e6d4c

---
Clash of cultures among Muslims
This is one of the most powerful videos about clash of cultures, thank God for America, here the American Muslim Parents not only believe in their own freedom but believe in the freedom of their off springs and this is what keeps extremism out of America. There is no doubt a few Muslim Parents are stuck up in the old – they bloody disown their own children.
It has pained me, and continues to pain how a parent can disown a child if that child chooses to be in his natural state; a Gay or Lesbian. God is merciful and they simply don't get it and instead make him a villain. Prophet Muhammad is a mercy to mankind… it is time we take this up and understand what that means. Accepting your child's sexual orientation is painful but also remembers Islam is about common sense and it forbids you to compel anyone against his or her will. God gives you a way out, let him make that call and not you.
God is not a villain, and please don't make him one. You remember the story of Solomon? God gives him the right to feed all of his creation, Solomon withholds food against a sinner – then God takes it back telling Solomon that he cannot understand the love God has for his creation. There are good checks and balances built in to Islam to prevent excesses, or inaction.
The story of this lady is the story of many kids out there. She is worth listening to. On our part, we will continue to advocate "If it is not common sense, then it is not Islam." American example needs to be taken to Europe and save the children from the mental abuse from their parents.
https://www.youtube.com/watch?v=0_W0HFy9Et4

---
Nothing will change if we don't make the effort.
We have a lot of work planned, I will be happy to mail you a tiny brochure summarizing the work we are doing. We will need your physical address to mail.
We are making several efforts to reach out to Congressmen and Senators, and we are not asking them to do us a favor, but simply asking them to be a catalyst in shaping our nation. CFP is not a business so do not expect quarterly returns on your investment of time and money; it is a service that builds sustainable harmony and stability.

---

PLEASE DONATE GENEROUSLY
Meanwhile, please make a generous donation – your name will be listed for supporting our efforts in building a cohesive America. You can donate at. https://www.paypal.me/AmericansTogether
---
This weekly bulletin comes to you from the Center for Pluralism. The Center for Pluralism is about building a cohesive America, where no American has to live in anxiety, discomfort or fear of another American. By learning to respect the "otherness" of others and accepting the God-given uniqueness of each one of us, we pave the way to mitigate conflicts and nurture goodwill. Then we all can live our lives and not worry about other's religion, race, sexual orientation or ethnicity. We are all Americans.
Dr. Mike Ghouse is President and Executive Director of the Center for Pluralism committed to building a cohesive America where no American has to live in tension, apprehension or fear of the other. He is a pluralist, thinker, writer, activist, motivational speaker and a news maker. He offers pluralistic solutions on issues of the day. More about him in 65 links at www.MikeGhouse.net