Horror and Hope for "New India" in 2020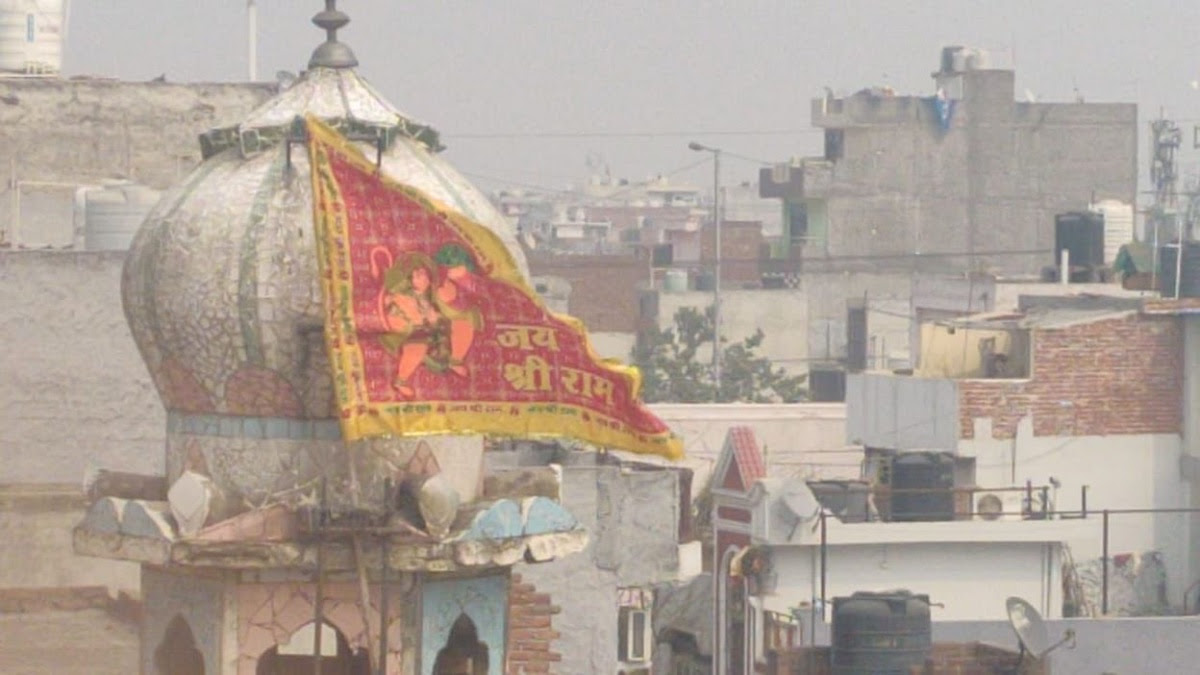 I. As 2020 ended, marking one of the most tumultuous and traumatic years India has seen in living memory, some bright moments of hope shone forth amidst the midnight of tyranny and terror that has fallen over the country under Prime Minister Narendra Modi's draconian regime.
As 2019 ended, millions across the country joined protests against the recently passed Citizenship Amendment Act (CAA), which premises citizenship on religion, and the proposed National Register of Citizens (NRC), which would require every resident of India to prove their citizenship. The new year dawned in Kochi, Kerala with an estimated 500,000 taking to the streets on 1 January 2020. "This is a law that divides people on communal lines," declared one organizer. "The CAA and the NRC discriminate against Muslims, and we will not take it lying down," said another. "We must not allow that."
Within days, however, the year took a vicious turn.
On 5 January, dozens of members of Akhil Bharatiya Vidyarthi Parishad (ABVP) — the student wing of the Rashtriya Swayamsevak Sangh (RSS) paramilitary — swarmed across the campus of Delhi's Jawaharlal Nehru University (JNU). Wearing helmets or masks and armed with iron rods, batons, even acid, they rampaged for hours, attacking security guards, students, and professors while raising Hindu nationalist slogans. The attack, claimed participants, was enabled by police collaboration and was perceived by some as retaliation for students protesting against CAA/NRC.
The movement against CAA/NRC, nevertheless, continued to expand across India. On 6 January, an estimated 50,000 women gathered in Malegaon. At a 15 January protest in Mangaluru that reportedly attracted up to 200,000, one organizer declared: "Our message was clear. We are all against the CAA and believe it is against the Constitution. This does not involve only Muslims but concerns all communities."
Unity across communities became a theme of the movement. On 17 January, Dalit activist Chandrashekar Azad — who was arrested in December 2019 for leading an anti-CAA/NRC march at Delhi's historic Jama Masjid — was released. He promptly returned to the masjid, where, standing on its steps, he read out the preamble to the Indian Constitution, announcing: "People from all religions, who support us, should join us in great numbers to prove it to the government that these protests are not led by Muslims alone."
The movement mushroomed.
As 26 January marked India's 70th Republic Day (the day that the Constitution was adopted), protests continued across the country. One of the most notable was in Kerala, where up to 7 million people — including the state's Chief Minister — joined a 650 kilometer long human chain to stand against the controversial legislation. Meanwhile, an already growing international solidarity movement exploded into a massive coordinated effort. In the US, thousands joined protests — often outside of Indian consulates — in 30 different cities. In Canada and Australia, Germany and the United Kingdom, South Africa and even Finland, protestors turned out to raise their voices in support of the millions taking to the streets in India.
I joined a protest of hundreds outside the San Francisco Indian Consulate. Taking the megaphone, I spoke, stating:
"Modi has plunged India into chaos.
"There is no peace in India today. There is no peace because there is no justice, and there is no justice because there is no liberty.
"But — I haven't even given you the bad news yet!
"The bad news is that, here in America, a country where we as citizens pledge to uphold liberty and justice for all, we have politicians who are licking the boots of the tyrants in India."
Then things took an even darker downward turn in India.
II. "Shoot the traitors," shouted Union Cabinet Minister Anurag Thakur at a BJP campaign rally on 27 January. The crowd echoed his call, chanting a slogan that was earlier raised by the ABVP mob who invaded the JNU campus — and, before that, by BJP politician Kapil Mishra in December 2019.
Pro-BJP forces soon attempted to put the call into action.
On 30 January, in full view of a passive police force, a 17-year-old pulled out a pistol and shot at a crowd of protestors, injuring a Kashmiri student. As he was led away, he shouted, "Long live Delhi Police." Two days later, at Shaheen Bagh — the site of a sit-in, women-led protest that began in mid-December 2019 — another man opened fire. No one was injured, but as police led him away, he declared, "In this country, no one but Hindus can have their say."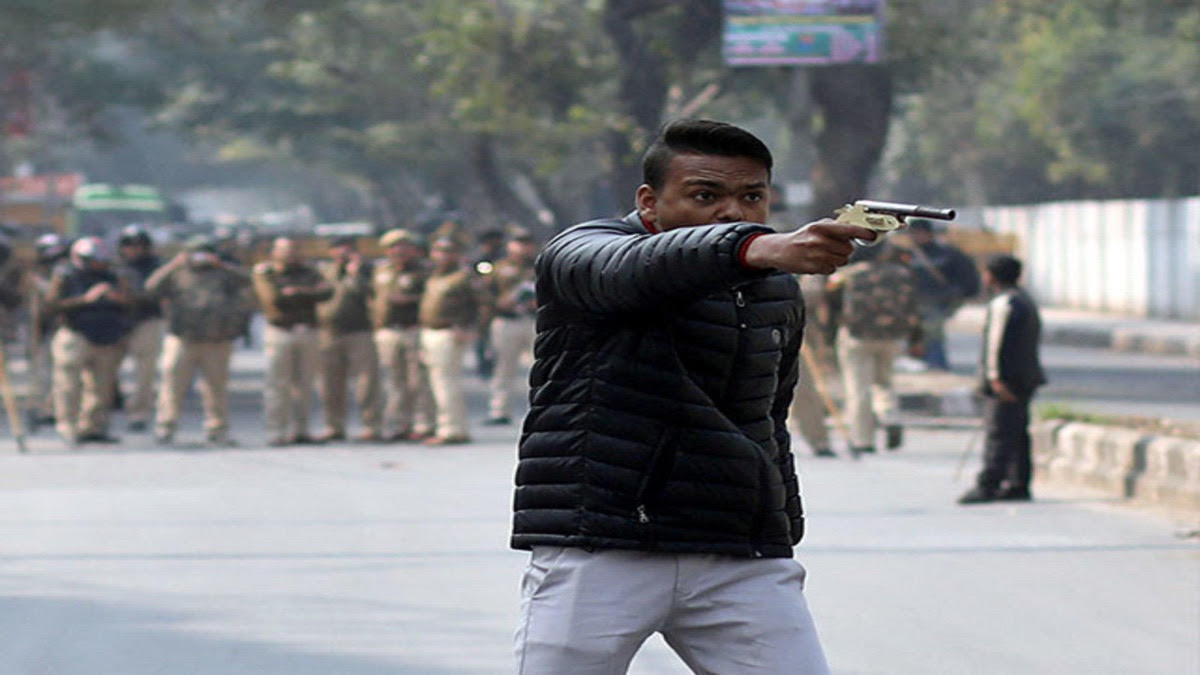 Yet, on the other side of the world, a glimmer of hope emerged.
On 3 February, the Seattle City Council became the first legislative body in the United States to pass a resolution denouncing the CAA/NRC. Spearheaded by Indian-American Councillor Kshama Sawant, the resolution described Modi as a having "earned the nickname 'the Butcher of Gujarat'" for his role in the 2002 Gujarat Pogrom, explained that "CAA is the first instance of religion being used as a criterion for Indian citizenship," and warned that "NRC could strip hundreds of millions of people (disproportionately Muslim, oppressed castes, women, indigenous, and LGBT communities) left out of the CAA of their citizenship rights." As the council voted unanimously to pass the resolution, the chambers erupted in chaos when a pro-BJP crowd who had gathered to oppose it jumped to their feet to voice their outrage.
It was, as I said while addressing supporters of the resolution immediately after its passage, "a great defeat for the RSS" — and it set a precedent, as several other cities, including San Francisco, passed similar resolutions throughout the year.
However, as the first American city spoke out against legislation which has been called the "culmination" of the "RSS's vision," an American diplomat in India paid homage to the paramilitary. On 6 February, US Consul General to Mumbai David Ranz — following in the footsteps of German Ambassador Walter Lindner — visited RSS headquarters in Nagpur, Maharashtra to lay flowers at the feet of a statue of the group's first leader. "Meeting the RSS is questionable enough, but what disturbs me is that the nature of his meeting was a photo-op where he literally paid tribute to Hedgewar," I said at the time. "That is not diplomacy. It's capitulation."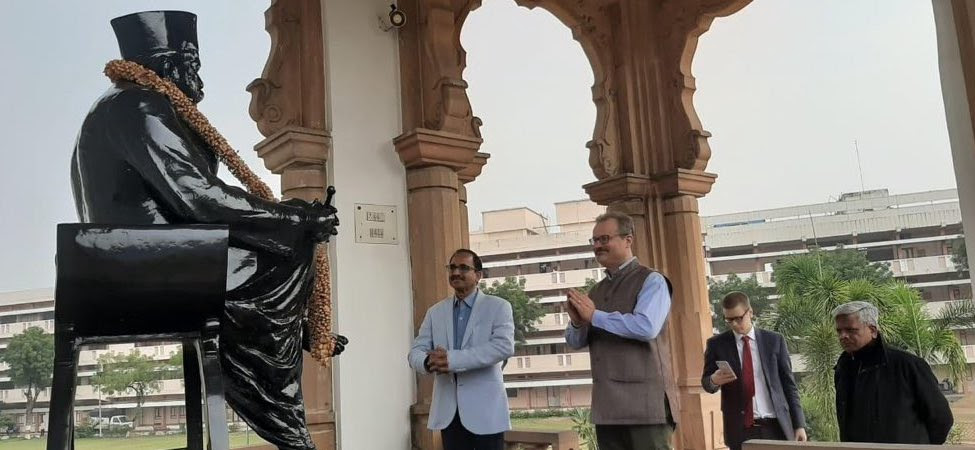 On the same day, reports emerged that a mother and her 11-year-old daughter were arrested for sedition after the child appeared in a school play where she criticized CAA; multiple other students involved were also repeatedly interrogated by police.
Another spark of hope came on 21 February, however, in California. Speaking to constituents at a town hall meeting, US Congressman Ro Khanna — who, the year before, took a courageous stance against Hindu nationalism — spoke out against CAA/NRC, stating:
"The National Registry is absurd. No country should have a national registry where they're asking for people to give documentation and prove that they're part of the country. I fear any kind of national registry could lead to extraordinary discrimination against Muslims in India. I've spoken out against the Citizenship Act, just like I've spoken out against the ban in our country, and I said, 'You can't discriminate people coming into our country based on their religious faith.' I don't think India should be discriminating who they're going to give expedited citizenship [to] based on faith. I think both of those policies are wrong."
Then Delhi was plunged into a nightmare.
US President Donald Trump was scheduled to visit India on 24 February. Modi, who had de facto endorsed Trump for re-election during a mega-reception in Texas in 2019, organized a massive rally for him in Ahmedabad, Gujarat which was dubbed "Namaste Trump." A day before his looming visit, the nightmare began.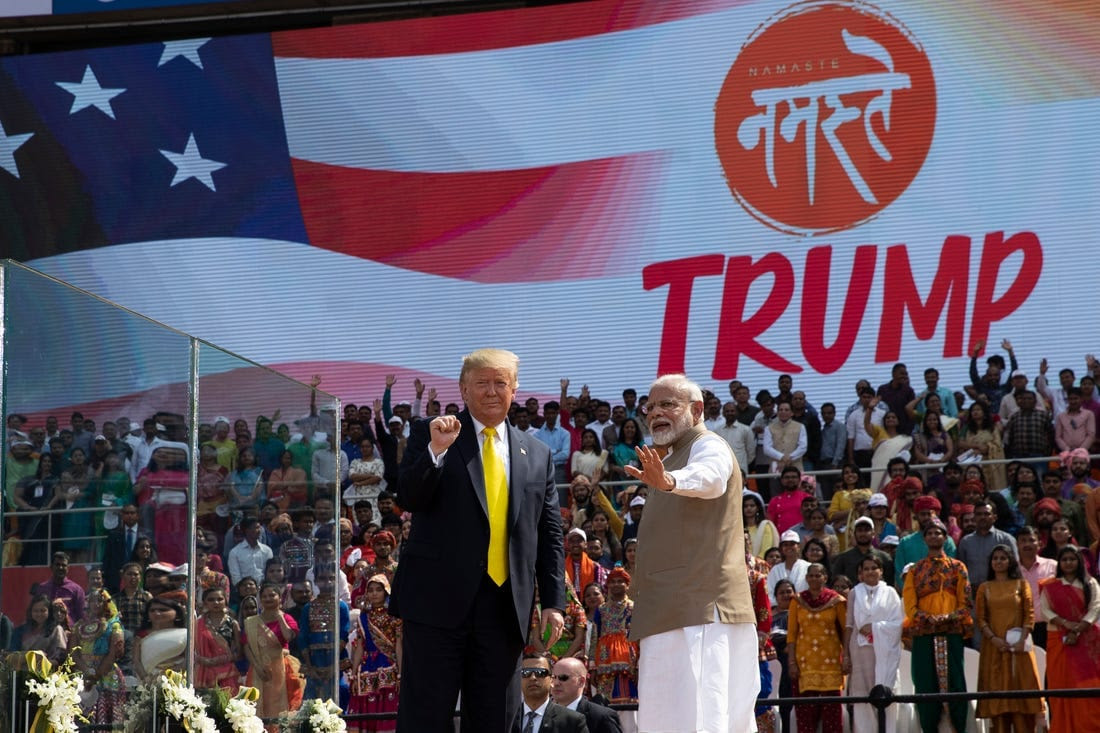 On 23 February, Kapil Mishra issued a "three days ultimatum" to Delhi Police, threatening that, if they refused to break up sit-in protests in Delhi within that timeframe, "we would not even listen to you." That same day, speaking at a rally in the presence of a senior police officer, he announced that, as long as Trump was in India, "we are leaving the area peacefully," but declared, "After that, we won't listen to you (police) if the roads are not vacated by then…. We will have to take to the streets."
But the violence was not held back until Trump's departure.
Hours before "Namaste Trump" began in Ahmedabad, mobs laid siege to an anti-CAA protest site. "There is all the difference in the world between a nation that seeks power through coercion, intimidation, and aggression, and a nation that rises by setting its people free and unleashing them to chase their dreams," said Trump in his speech that afternoon. "And that is India." Meanwhile, in Delhi, media reported that "police appeared to be supporting the Hindu mobs." By the end of the day, several lay dead and a Muslim-dominated market was on fire.
The following day, Trump arrived in Delhi to pay his respects at Raj Ghat, the memorial that marks the site of Mohandas Gandhi's assassination by a former RSS member. As violence continued to rage in the streets of India's capital, he made no mention of it, merely noting in the visitor's book that the American people "stand strongly with a sovereign and wonderful India." As he departed India later that day, the bloodshed continued unabated.
By the time the bloodlust was quenched and the smoke had cleared on 29 February, 53 — a majority of them Muslims — lay dead.
"The property destruction has also been lopsidedly anti-Muslim, with many Muslim-owned motorcycles, cars, houses, shops and factories reduced to ashes," reportedThe New York Times. "At least four mosques were set on fire." And, as later reported by Amnesty International India, "Delhi police personnel were complicit and an active participant in the violence."
"Police did not respond to the multiple calls that were made to 100 — police's emergency helpline number — leaving the survivors to fend for themselves over the period of six days of violence in Delhi," reported Amnesty. Instead, they often stood "shoulder to shoulder with rioters." In fact, according to The Guardian, on at least one occasion, they even broke down the doors of a mosque, dragged out an imam, and handed him over to the mob to be brutally beaten. One rioter described how he and others had seized a Muslim man, "beaten him with wooden sticks and metal rods until he appeared dead, and then threw him in an open drain while police stood by." Evidence collected by Amnesty showed a subsequent "disturbing pattern of torture and other ill-treatment meted out on riot survivors and detainees in police custody by the Delhi police." As the human rights group's executive director, Avinash Kumar, later stated, "Ongoing state-sponsored impunity that the Delhi police enjoy sends across the message that the police can commit grave human rights violations and evade accountability."
As a number of US lawmakers and governmental bodies expressed concern about the carnage, none provoked a harsher reply from the Modi regime than US Senator Bernie Sanders. After Trump, when asked about the violence, said he would "leave it to India to make the right decisions for their people," Sanders denounced the response as "a failure of leadership on human rights." BJP National General Secretary BL Santosh — the party's second-in-command — swiftly replied, "How much ever neutral we wish to be, you compel us to play a role in Presidential elections."
Despite the tragedy in Delhi and the BJP's threat to interfere in US elections, however, there were still some small rays of hope.
On 2 March, Albany — the capital of New York — became the third US city to pass an anti-CAA/NRC resolution. Urging the US Congress to "support legislation censuring the Republic of India for adopting these policies," the resolution described them as "the Modi regime's racist and repressive policies."
Then, on 19 March, Congresswoman Tulsi Gabbard ended her campaign for the US presidency. It was always a long shot, but the presidential aspirant had received heavy funding from leaders of Hindu nationalist groups in the US, including Ramesh Bhutada — Vice-President of Hindu Swayamsevak Sangh USA (HSS-USA), RSS's American wing — and his family. As she campaigned in January 2020, she had faced criticism for wearing the BJP scarf at a 2014 banquet hosted by the Overseas Friends of the BJP (OFBJP) — the party's international wing. Months earlier, a DC-based media watchdog warned that she had a "documented connection to the far-right Hindu nationalist, or Hindutva, movement known as" the RSS. As the outlet explained, "Gabbard has been crucial to revamping the image of the Hindu nationalist in the United States, and has in turn received crucial financial support from the Indian-American far right."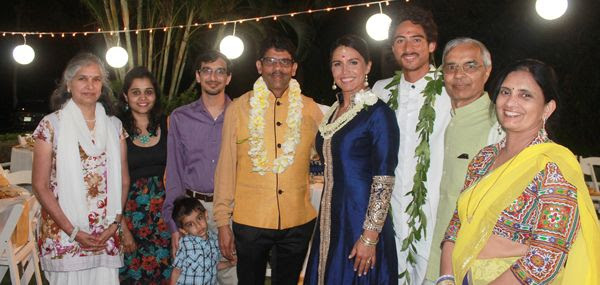 Sanders was raising his voice against the Delhi pogrom, another major American city was speaking out against the CAA/NRC, and the Hindutva-aligned Gabbard — who had already announced she wouldn't run for re-election to US Congress —was out of the running for president, but the state of affairs in India once again took a turn for the worse as the entire country was locked down in response to the COVID-19 pandemic.
III. "Modi was facing mounting pressure both within and without India," I later said. "Then his regime was able to position itself as caring and concerned with the preservation of human life. In the name of fighting an invisible enemy, it was able to get away with doing what it probably wanted to do years ago: lock down the entire country."
On 24 March, giving just four hours notice, Modi imposed a nationwide ban on people leaving their homes. The total lockdown continued, more or less, for over two months before a phased re-opening began. The swift action sparked an immediate crisis as many of India's nearly 140 million internal migrants — daily wagers who have often traveled from rural regions to urban centers for increased opportunities — suddenly found themselves unemployed and rushed to return to their villages.
"Since the end of March, when the government closed borders and halted public transportation, hundreds of thousands of migrant workers have left cities despite fears that they'd encounter the police, run out of food or water, or succumb to the searing heat," reported Indian journalist Nilanjan Bhowmick in May 2020. "They walked, cycled, and hitchhiked, often along the only route they knew: train tracks. Fathers carried children on their shoulders, women balanced belongings on their heads, people squatted atop crowded trucks — all determined to find a way home."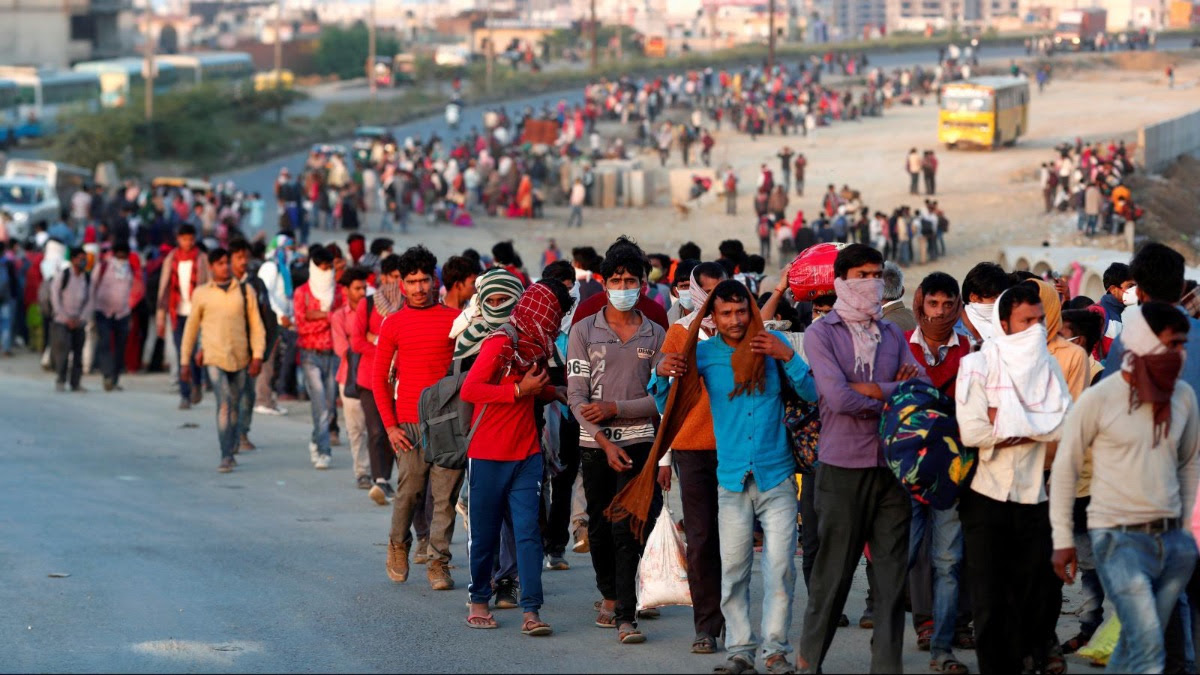 "If you are, say, a freelance designer with a nice home, and you can work from there in between some reading and net surfing, with the added thrill of watching the crisis unfold on TV, the lockdown is not very different from a holiday," explained economist Jean Dreze. "But for most people, the lockdown is an economic disaster, the more so the poorer you are. For those who were living from hand to mouth to start with, the lockdown is almost a death sentence." Indeed, many migrants never found their way home. A study released in September 2020 reported nearly 1,000 migrant deaths as a result of the crisis — including from starvation, exhaustion, and road accidents such as when a freight train ran over 16 sleeping migrants.
"The policies are made or influenced by a class of people who pay little attention to the consequences for the underprivileged," continued Dreze. "For good measure, the policies are often enforced in an authoritarian manner."
Authoritarian enforcement manifested in brutal — sometimes fatal — police beatings of people caught breaking the curfew. "In the name of enforcing the lockdown, policemen are behaving like goons and harassing citizens who are going out to buy essential items," said one Delhi resident shortly after the lockdown was imposed. Another concurred: "The cops are terrorising people rather than helping them in the crisis and not allowing them to buy essential items." A teenage boy was beaten to death for stepping out to buy biscuits, a family man was beaten to death on his way to buy milk, an elderly tribal man was beaten to death while buying groceries. In one of the worst cases, a father and son were arrested for allegedly keeping their shop open past curfew, taken to a police station, and tortured to death.
Amidst the chaos and violence, the only true beneficiary was the RSS.
By mid-April, the RSS itself boasted that it had mobilized hundreds of thousands of its members to assist in "managing the lockdown" across 25 of India's 28 states. Its cadres, reported The Caravan, "supplemented the efforts of local administration and police forces across states to implement the lockdown" and "played a role in relief distribution often with the support of local administrations." As the magazine concluded, "COVID-19 has become the latest instance of the RSS's long-term strategy to gain societal acceptance and influence by helping with disaster relief."
"Police and district administrations gave the RSS easy operational access and logistical help to carry out the Sangh's relief operations while simultaneously taking swayamsevaks' [members] help in implementing state-mandated relief interventions," continued Caravan. In Delhi, within the first few days, they were even summoned by Delhi Police — the same force accused of joining hands with Hindu nationalist mobs during the anti-Muslim pogrom the month before — to help control crowds of migrants. While the entire citizenry was banned from exiting their homes, RSS members reportedly received special passes allowing them free transit and empowering them to monitor government ration distribution sites.
Nearly 1,000 groups affiliated with the RSS qualified for both government funding for relief work as well as access to purchase subsidized foodstuffs which, in some cases, they were accused of repackaging as coming from the RSS itself — rather than the government — and discriminatorily distributing solely to BJP members.
There was, suggestedCaravan, "a political motive behind its philanthropy" as the RSS sought "political ingratiation" using aid as "political tool" which helps "establish contacts with the communities" and increases "acceptance among these communities" as the paramilitary pursues its agenda of declaring India to be a Hindu Rashtra (nation).
This was nowhere more vividly illustrated than near the city of Hyderabad. In early April 2020, photos emerged of RSS members — clad in the group's official uniform and armed with its standard-issue lathi (an iron-clad bamboo pole) — staffing a police checkpoint and allegedly stopping travelers to check their documents. The incident seemed to symbolize the truth of Indian author Arundhati Roy's claim, made just a few months earlier: "The RSS has stepped up its game. No longer a shadow state or a parallel state, it is the state."