Pluralism News is the expression of our work, and we are pleased to share the same with you. Our land is inhabited by people from Atheists to Zoroastrians, Republican, Democrats and others, different races, ethnicities, cultures, and cuisines. Pluralism is an attitude of respecting the otherness of others and accepting the God given the uniqueness of each one of us, and as we learn to do that, conflicts fade and solutions emerge.
https://centerforpluralism.com/pluralism-news-february-25-2018/
---
---
Ambassador for Religious Freedom
Five minutes into the opening remarks at the Department of State, Ambassador Brownback said something very powerful and timely, "I am a conservative Christian, but when it comes to religious freedom, I am for the religious freedom of all people." Once again, I debated about clapping as it may not be kosher, but then I could not resist applauding, and I am glad, others followed and appreciated it. Full report https://centerforpluralism.com/religious-freedom-ambassador-brownback/

---
Pluralism in Cuisine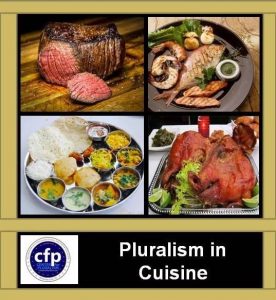 The Hindu lady screamed at the Jewish man, "Jacob (dramatization to make a point), I thought you knew I am a Hindu and Cow is sacred to me, how can you be so insensitive? How can you eat that beef, don't you care how I feel?" She was hurt and threw a fit! Jacob, on the other hand, was yelling at the Christian lady, "Jonie, I did not think you would eat that pork in front of me knowing that I don't eat Pork, you have just pissed me off." All the four had nasty things to say, and their enthusiasm dwindled down, and quietly, they ate in tension and went back to the office without talking with each other. Full story https://centerforpluralism.com/food-pluralism/
---
Pluralism Is Necessary For The World's Collective Survival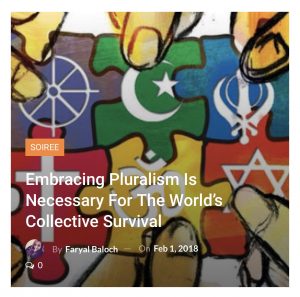 Pluralism in societies or one may say a religious society doesn't mean to eradicate the differences or smooth things up under one canopy. Pluralism specifically means to reinvent the ways of living, arguing, connecting and disagreeing in a society of differences and inequality. It's always dangerous to keep discussing and complicating the "religious identities "and "religious violence" which often derail our understandings about the concept of pluralistic societies. Religion is everywhere. The much-needed pluralism is necessary to bridge the gaps between different cultures and religious worlds. https://centerforpluralism.com/pluralism-is-necessary-for-the-worlds-collective-survival/
---
Does Confident Pluralism mean protecting racist views by Dr. Eboo Patel
John quotes the philosopher Rousseau's pessimistic view — "it is impossible to live at peace with those we regard as damned" — and then goes on to offer his more optimistic formulation: "Confident pluralism allows genuine difference to coexist without suppressing or minimizing our firmly held convictions. We can embrace pluralism precisely because we are confident in our own beliefs, and in the groups and institutions that sustain them." https://centerforpluralism.com/does-confident-pluralism-mean-protecting-racist-views/
---
Hindu Man Adopts a destitute Muslim Girl

Stories like this should roll a tear of joy, it did to me. Happiness is when there is no conflict and I am so happy to read this story. I pray the negative trends in India against interfaith marriages come to an end and let people marry whomever they want without harassment of any kind. https://centerforpluralism.com/good-story-from-kerala-hindu-family-adopts-raises-and-marries-of-a-muslim-girl-as-a-muslim/
---
The Pakistani American Doctor's Organization

Dr. Vasdev Lohano, the outgoing president of the association and I had a brief conversation during a break, and I am pleased to share the gist of it. Talking about the cohesiveness of his organization, his pride came through in these words, "Culture trumps religion and binds us together with language, customs, heritage, arts etc. We should focus our energies to promote culture to create harmony among each other. I have seen so many times people forget who you are if you start talking with them in their language." https://www.huffingtonpost.com/mike-ghouse/the-pakistani-american-do_b_5323434.html#es_share_ended
---
Texas Faith – After religious right, will the religious left reassert itself?
The right has gone too far and has pushed the society to a greater degree of imbalance, and their opposition to equal pay for women, affordable care, and same-sex marriage has created ample energy in the left to bulldoze the right in the 2014 mid-term elections, as a self-balancing self-preserving act. The progressives have to be as aggressive as the conservatives to restore that balance in the society. (This is one of the 250 articles Mike wrote at Dallas Morning News) http://foundationforpluralism.blogspot.com/2014/05/texas-faith-after-religious-right-will.html
---
What do we do at the Center for Pluralism?
https://centerforpluralism.com/what-do-we-do-at-center-for-pluralism/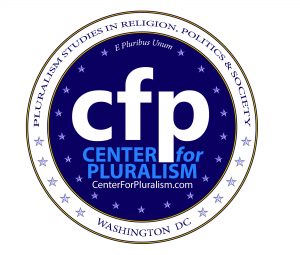 If you want America to function cohesively, where you feel secure about yourselves, your faith, your face, race, ethnicity, culture and even your politics, we have a space for you. If you wish to be part of the Center for Pluralism as a volunteer, donor, scholar, or a writer, please write to Mike@Centerforpluralism.com – Most of our articles can also be accessed by clicking www.PluralismNews.com
Your donations are tax-deductible – its a 501 (c) (3) Non-Profit organization
Donate at: https://centerforpluralism.com/donate/
Please send your questions to Mike@Centerforpluralism.com
---
THREE BOOKS THIS YEAR
Blueprint for American Muslims
Standing up for others
Americans Pluralism
Mistakes Muslims Make
The Blueprint for American Muslims addresses the issues that have kept Muslims in silos, ghettos, clusters and in tiny ponds and offers guidance to come out of the shells and connect with fellow Americans. This will be out in April
Thank you
Mike Ghouse
Center for Pluralism
Dr. Mike Ghouse is blessed to have stood up for the rights of people of every faith from Atheists to Zoroastrians including Native Americans, Pagans, immigrants, Wicca and LGBTQ communities across the globe. He has a solid record of work for each one of these communities and a book is being written chronicling this work as an encouragement to people to enjoy the joys of "standing up for others".
Mike is committed to building cohesive societies and offers pluralistic solutions on issues of the day. As we learn to respect the "otherness" of others and accept the God-given uniqueness of each one of us, Mike believes that conflicts will fade and solutions emerge. He has dedicated his life for this purpose and offers programs to bring about the positive change—to create cohesive societies.